Description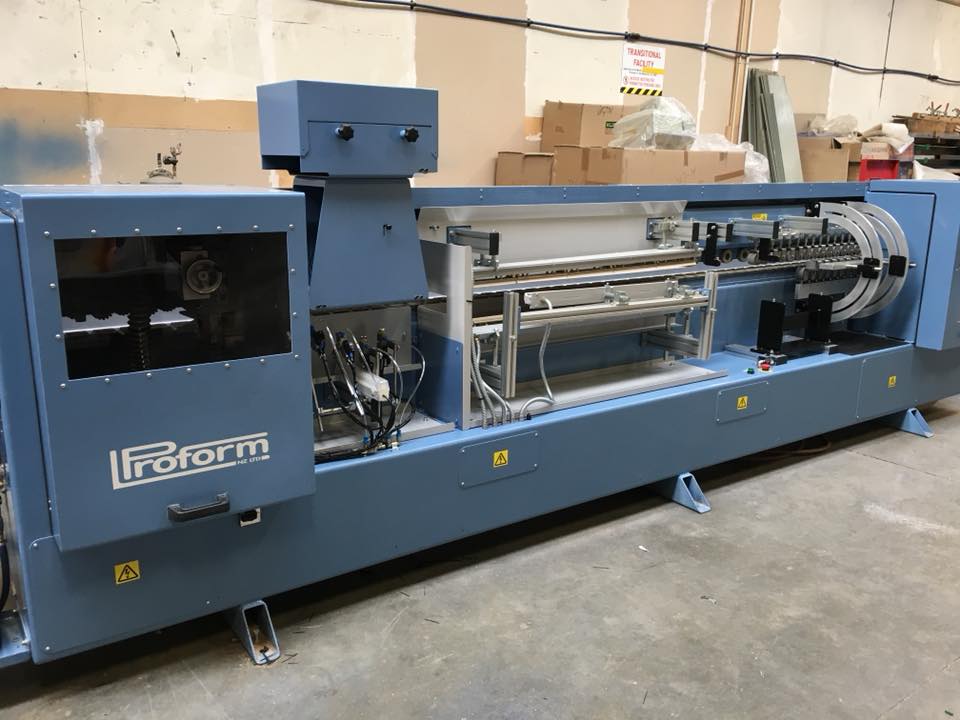 TN 48 Specifications
Feed rate m/min: 3-12
Work piece thickness: 10 – 55 mm
Work piece width (min): 180mm
Work piece length (min): 200mm
Height of built up edge (max): 35 mm
Width of built up edge: 50 mm
Laminate overhang (max): 110 mm
Maximum laminate thickness: 1.0mm
Minimum forming radius: 5 mm
Machine dimensions: L: 5800 x W: 1086 x H: 1340 mm
Working Height: 920 mm
Power Supply: 415v + Neutral 30 amp
Max connect load: 21 kw
Air Supply: 100psi (675 KPA)
Weight: 2100 Kg
Control Console
Space saving swivel mounted control console. User friendly console layout, with integrated operator interface. On-Screen status display with sub-menus for control of additional adjustable features.
Laminate Trimming Station
Laminate overhang trimming station with simple single axis adjustment. The high speed induction motor fitted with a 60mm diameter tool is fully enclosed in the collection box with viewing window and 50mm diameter outlet port.
Glue Station
Full directional adjustment of spray nozzles for precise and even application of PVAC glue. Pneumatic and electronic control.
Infrared Heater Banks
Four infrared heating banks ensure control for thermic preparation glue coated substrate. Power saving Standby Mode
Trimming Station
Laminate trimming station for flush trimming of 90… profiles with simple twin axis adjustment. High speed induction motor fitted with an enclosed 60mm diameter tool and a 50mm diameter outlet port.
Secondary Forming Station
The secondary station (for the cooling process) presses the flat portions of the profile via the in-line pressure bars. The pressure bars can be either withdrawn or rotated if necessary although the innovative "C" design means adjustment of this station is often not required.
Primary Forming Station
The TN58 features two pressure rolling areas to achieve the desired profile. The primary station (with the assistance of a laminate guide rod) form the laminate around the profile and a simple interchange system allows rapid changeover from 90… to 180… – shark nose to duck
nose etc.